Hey, sorry, but I have been sick/employed/boozing it up and have not been able to devote the amount of time and energy I would like to regarding the internet/this blog. I want to do you right in the future, blog, but coughing loudly and sleeping 12 hours a day will take precedence until I am fully and completely healed.
In other news, Mount Eerie is releasing some sessions recorded back in '06 (commonly referred to as "200sux" or "the worst year ever") under the album title
Black Wooden Ceiling Opening
. (Word on the street is that they are louder, more hardcore versions of earlier Mount Eerie jammz.) It's coming out as a white vinyl 10", so good luck getting ahold of that. Phil Elverum is also playing a handful of dates, none of them anywhere near me.
Read 'em and weep:
02.27.08 - Salt Lake City, UT - Kilby Court
03.04.08 - Tucson, AZ - House, 601 E Mabel St.
03.05.08 - Phoenix, AZ - Trunk Space
03.06.08 - Irvine, CA - UC Irvine
03.07.08 - Los Angeles, CA - The Smell
03.08.08 - San Francisco, CA - ISA @ Enola Maxwell High School
03.22.08 - Anacortes, WA - Department of Safety
04.05.08 - Vancouver, BC - Hoko's Sushi/Karaoke Bar
04.17.08 - Seattle, WA - The Vera Project
05.07.08 - Bergen, Norway - Strædet
Dude's playing a high school!!! I hope it's a benefit put together by a rag tag cast of plucky teens who just want to save their community center!!! Weirdly, it doesn't say anything about this possibility on the unofficial, fan-created
Mount Eerie/Microphones Myspace page
.
Before I go, I want to introduce you to Binkie the Goodman's Mouse Lemur. He is the cutest fucking thing in the entire world, and that's why I named him Binkie, an achingly cute name for an achingly cute creature.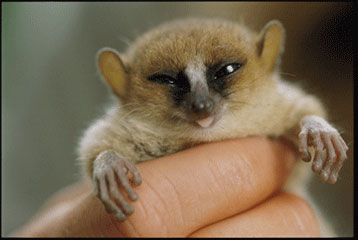 "I'm Binkie, and I WUV you!!!"
Ahhhhhhh!!!! Binkie just makes life worth living.