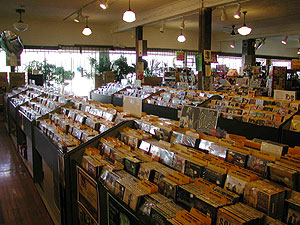 I just found out about this great holiday that probably no one will really celebrate! (Although, if I remember to write it down in my planner, I am TOTALLY buying holiday theme shots. Move over, "I have a dream" shots--I have a new dream. The dream of celebrating myself and my place of employment.) You see, April 19th has been declared National Record Store Day by the Coalition of Independent Music Stores. This is awesome because I constantly require validation re: my coolness/right to look down on people. Did I mention that I like Swans and Big Black? I am totally more hardcore than you--don't even try to step to me.
They say that
this website
will give you the DL on what local independent stores are doing to celebrate this great--possibly even greater than Lincoln's Birthday--holiday. In other news, my internet access is pretty random, so I'm aiming to update this blog at least twice a week--slightly less than the 3x a day I used to do when I was unemployed.
Note: The girl next to me at the coffeeshop keeps emphatically repeating "She is NOT. PRETTY. She is just NOT PRETTY." I am so glad I sat next to her. What will she emphatically say next?