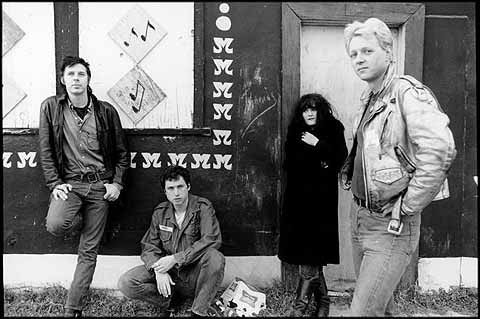 This one, they say, is in honor of the LA rockabilly/garage/"cowpunk" (this last one is my favorite term, obviously) band's 31st anniversary. Great! Because I think I must have also seen the 29th anniversary reunion tour and the 27th anniversary reunion tour. And they were both awesome, although the last show was filled with middle-aged dudes loudly "talking music" in order to impress all the people there who, of course, already knew who the bands were, or else they wouldn't be there. Impressive! And did I mention that Rollins opened the show? Rollins opened the show!!
But this time who knows what surprises are in store for us? Will Rollins be there again? Will Jello Biafra be at the SXSW date? My guess is yes. Biafra is ALL OVER SXSW!!! He loves it there.*
Here's some olde tyme footage of X playing "Johnny Hit and Run Pauline." Exene, though I love her and plan on naming a cat after her when I get one, makes a good argument against drinking and singing. From now on all my karaoke is 100% sober. And if anyone wants to start that X cover band I was talking about all the time a couple years ago (the gimmick is that I, the girl, sing all the John Doe parts, and YOU, the dude, sing all the Exene parts. Crazy, huh?!?!?!) I cannot think of a better debut performance than opening for the actual X here in Minneapolis!!! Hippies would totally be into it.
*This statement cannot be verified.
3.12.08-3.16.08 - Austin, TX - SXSW
3.19.08 - Chicago, IL - Metro
3.21.08 - Madison, WI - Barrymore
3.22.08 - Minneapolis, MN Cabooze (The Cabooze? Yes, the Cabooze.)
3.25.08 - Denver, CO - Bluebird
3.26.08 - Aspen, CO - Belly Up
3.28.08 - Boise, ID - Big Easy
3.29.08 - Portland, OR - Crystal
3.30.08- 3.31.08 - Seattle, WA - Showbox
4.09.08 - San Diego, CA - Belly-Up
4.10.08 - Los Angeles, CA - Henry Fonda Theatre