Every once in awhile, I like to mix it up a little from this blog's pretty much steady diet of comparing Nick Cave to things and talking about how much I love the band HTRK--"every once in awhile" being now, when Neko Case has announced some live dates in the coming new year. My favorite alt-country lady (and the definite favorite of the multitudes of lovelorn older men who attend her concerts alone and futilely shout their feelings towards her at every Neko show I've ever been to) is conducting a short tour through the East coast to perform some of the songs she has written for a forthcoming album. How exciting! But in that good "yes, there's a new record I'm looking forward to" way, not in that "WHAT? Wikipedia says Neko Case is NOT from Canada!?" sort of way. Because she isn't. From Canada. Did you know that? Here I had gone through my life all these years thinking Neko Case was from British Columbia up until only a few months ago, and I wouldn't exactly say that this changes my opinion of her amazing vocal abilities or haunting country songcraft...but I really liked liking a Canadian alt-country artist. Oh well. Goodbye Canadian mystique, I will still continue to associate you with Neko Case. And if anyone has a problem with that, and my ignorance of the Neko biography, well that's cool; I tend to believe whatever I want to believe, so whatever, it's all good!
Note:
Neko Case has the best promotional photos ever. Here's a
MySpace link
b/c I can't figure out how to add a music player to this website! Anybody wanna help out with that?
See? Amazing promo stills!!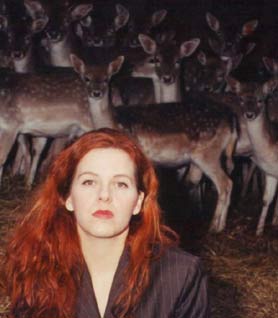 FRI 1/25 - TARRYTOWN, NY @ MUSIC HALL
SAT 1/26 - ITHACA, NY @ STATE THEATRE
SUN 1/27 - BURLINGTON, VT @ HIGHER GROUND
THU 1/31 - ALBANY, NY @ THE EGG
FRI 2/1 - PROVIDENCE, RI @ LUPO'S
SAT 2/2 - NORTHAMPTON, MA @ CALVIN THEATRE