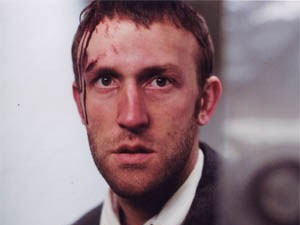 I figured I should write about something for once that didn't involve Nick Cave or Bat for Lashes. Something that didn't involve screaming or just moping. Something that would make it seem like I have a personality--a multi-faceted one, no less--and am not just some dour, 80s nostalgia-fueled young female record nerd who just happens to really like teen drama (GOSSIP GIRL 4EVA!!!) and
funny animals
. So imagine my delight when I read about this new RJD2 album.
I've been a big proponent of RJ ever since his phenomenal 2002 debut
Deadringer
hit the radiowaves. I've gone to almost all his shows (including the kinda horrible one I went to where some dude grabbed my ass and so I spit on his foot--I was like, 20!!! (Or maybe, erp, 21.) I thought I was PUNK ROCK. And no foot--spit contact actually happened, by the way. This is also the show where some dude from indie rap group Hangar 18 (or some dude impersonating a dude from indie rap group Hangar 18) gave me a drink and said, "Now you can say someone from Hangar 18 bought you a drink," as if "Hangar 18" was equivocal to--oh...say...
Gossip Girl
star Ed Westwick and "a drink" to a magical, wish-granting unicorn that smells like cotton candy. ANYWAYS.) So yes, anyways. I'm pumped to hear that the man has an upcoming album, entitled
The Colossus
. Slated for a January 19 release on his new RJ's Electrical Connections label, the album features guest vocals from the likes of Little Brother rapper Phonte Coleman and Kenna. It also features a track called "Giant Squid." (Is there any other kind???)
Tracklisting:
01 Let There Be Horns
02 Games You Can Win [ft. Kenna]
03 Giant Squid
04 Salud 2
05 The Glow
06 A Spaceship for Now
07 The Shining Path [ft. Phonte Coleman]
08 Crumbs Off the Table [ft. Aaron Livingston]
09 A Son's Cycle [ft. the Catalyst, Illogic, NP]
10 Tin Flower [ft. Heather Fortune]
11 Small Plans
12 Gypsy Caravan
13 The Stranger
14 Walk With Me