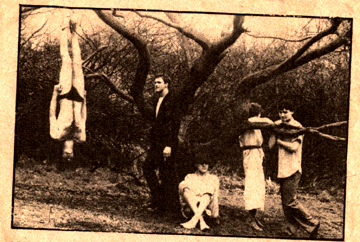 I picked up Sheffield post-punk band Artery's
Into the Garden
collection at Rough Trade a few months ago. On the cover of the album was a sticker saying something like "Jarvis Cocker is totally down with Artery", which I suppose might mean something to people who are super into Pulp, but I was just kinda like "OK, Jarvis, we'll see about that." Not in a mean way, or anything, I was just slightly wary because on some deeply patronizing level of my brain, I kind of have the vague impression that I already know about most super incredible post-punk bands. (Which obviously I don't, because I was going through early developmental stages at the time most of these bands were functioning. But then again I guess by virtue of me having a blog where I blather on about the same three or so bands every week, you can already tell that I'm obsessive and deluded!)
Hmm...where to go now that I've admitted that I'm kind of a self-important jerk? Oh yes! Artery!
Artery formed in 1978 and released three albums, none of which seem to be currently available. Fortunately the wonderful Cherry Red label put out
Into the Garden
, which has some great jams like my personal favorites "Afterwards" and "The Death of Peter X." You can check out those two tracks on the band's
MySpace page
. From what I can find out about them, people were all like "Artery is totally the Joy Division of Sheffield!" and the comparison is valid.
The band reformed in 2007 and is playing in London soon. Sadly for me, I will not be here. But maybe you will! And maybe you've been aching to go to Electrowerkz! I mean, how could you not be, what with that crrrrrazy spelling and all?
29 December 2007 Artery w/ Komputer and Sheep on Drugs at Electorwerkz