Today we look back on the sometimes shocking, often scandalous, and always fabulous life of one of history's greatest decadents, Count Gottfried Alexander Leopold Graf von Bismarck-Schönhausen. Always one for a witty repartee, a gallant jest, or a super debauched drug extravaganza, the Count was one of the truly great dandies of our time. Unfortunately, before I could meet him, the dapper gent passed away from injecting what the coroner described as "the highest level of cocaine he had ever seen." Rest in peace, good sir, you will be missed.
But before this post turns into all black crepe and laudanum addictions, let's take a moment to follow the advice of list runner-up
Alice de Janzé
by turning our backs on sorrow and having a cocktail party (so to speak) on the grave! Bottoms up! May I present you with the Louche List, or
TOP OF THE FOPS
(Note: Criteria for this list does not necessarily require one to be a fop. Dandies and rakes have received equal consideration; the only essential requirement is an uncompromising status as one of the thoroughly dissolute.)
Notable runners up include:
The aforementioned Ms. de Janze, Morrissey, Beau Brummel, any and all Borgias, Jean Genet, and Mr. Topper, the elegant frogly gentleman who represents an English chain of barber shops. Pictured below, he is the epitome of good taste, but the way I imagine him, just an all-around swell old chap, not the sorta guy who besmirches a lady's reputation or plays card games with the family estate as collateral.
Let the rankings begin!
10.
Luisa Casati Stampa di Soncino, Marchesa di Roma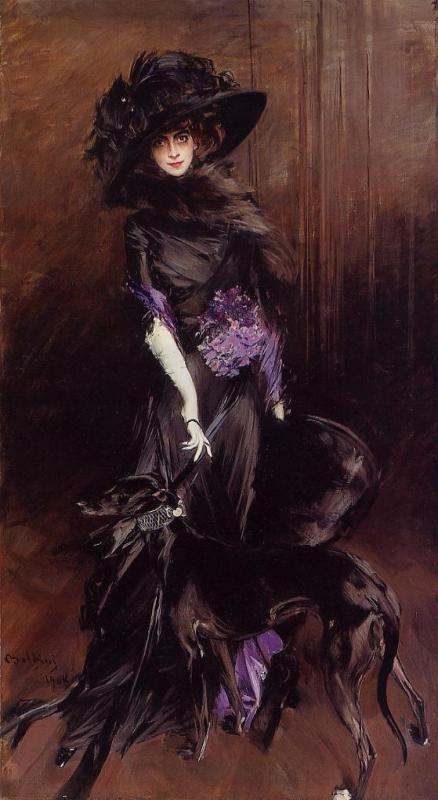 Marchesa Casati
comes in at number 10 because of her wicked style, acquaintances with artistic luminaries like Jean Cocteau and Erte, and what wikipedia describes as her "menagerie of exotic animals." A storied promenade through Venice accompanied by a pair of cheetahs and adorned with live snakes guarantees the Marchesa a spot on this list, as does her burial in fake eyelashes. A lack of true, enduring scandal, however, has prevented her from scoring higher.
9.
Marie Antoinette
The deposed Queen of France's predilection for ridiculous headgear, extravagant clothing, and gambling ensure her place on the louche list. Extra points for being so rich that she considered acting poor at her milkmaid-themed fun palace, the Petite Trianon, to be entertainment. (Kinda like that Pulp song "Common People", am I right?) Although many of her contemporaries have described her as a kind-hearted and gracious woman, she still ranks on the list because of total
burn
comments like her first words spoken to court favorite Madame du Barry after years of knowing but never acknowledging her: "There are a lot of people at Versailles!" Ouch! Banality hurts!
8.
Charles Baudelaire
Not particularly scandalous by today's standards, but he did squander an inheritance and was prosecuted for his volume of poetry
Les Fleurs du Mal
being "an offense against public morals." He has been awarded extra points for enjoying gothic novels, and for a lengthy
treatise on dandyism
.
7.
Fellini's La Dolce Vita
Points off for being a movie, and not just one individual. Incidentally, points off for being fictional. Points
on
for being totally amazing, and charting the disintegration of one man's morals and aspirations. Super creepy proposed orgy at the end provides the "dissolution" that has so far taken a back seat to "dandyism" in this list, and totally makes me want to go take a shower and forget about the creepy bird-sounding girl. Eeesh.
6.
Tie: Paul Verlaine and Arthur Rimbaud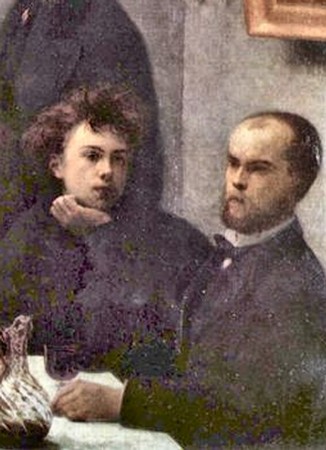 Two outrageous adherents to the love that dare not speak its name, they both wrote dark and decadent poetry, were addicted to hashish and absinthe, and generally provoked the bourgeosie. In a fit of drunken rage, Rimbaud shot Verlaine. Tumultous!
5.
Oscar Wilde's The Picture of Dorian Gray
Everybody knows Oscar Wilde was 2 fast 2 furious with the
bon mots
and was considered a threat to public decency because of his effeminacy. Everybody also knows that his literary creation, Dorian Gray, was a complete cad, ruining young women, consorting with shady figures, and hanging out in the opium dens around Docklands. Also, he was a total douche. Case. Closed.
4.
John Wilmot, 2nd Earl of Rochester
The Earl of Rochester's family considered that he "grew debauched" soon after his arrival at Oxford University. Dude was twelve!!! He wrote audacious plays and satires about the aristocracy, and is the basis for the terrible Johhny Depp vehicle
The Libertine
. In addition, he married a woman who he had tried to abduct two years previous to their union, and was buried with a silver nose due to his losing battle with syphilis. Oh, also he's pictured with a monkey in this portrait.
3.
Lord Byron
Lord Byron was so dreamy. EXCEPT FOR THAT INCEST THING!!! (Dude was reputed to have had a child with his half-sister.) All tall, dark, and handsome, he was misunderstood by all and vilified by many. He traveled the globe, breaking hearts everywhere he went. His writing also inspired Polidori's
The Vampyre
, what one wikipedia writer deems as "the progenitor of the romantic vampire genre." Ha ha! Ridiculous!!!
2.
The Sarah Michelle Gellar character in "Cruel Intentions"
No, not the novel
Les liaisons dangereuses
. I mean the movie. Sure, the book is baaaaad, but does the prototype for SMG's character sneak bumps of cocaine in the high school bathroom? Is there a hint of near-incest with the whole "I'll sleep with my stepbrother if I win this cruel seduction challenge" thing? The answer: a resounding NO. And that is why SMG ranks at #2.
1.
Gottfried Alexander Leopold Graf von Bismarck-Schönhausen
OMG, you guys, who did you think it was?!?!?!?
After all, this list has been compiled as a celebration of the "louche aristocrat"'s life--and can't nobody do dissolute like the Count.
I'm going to let these words from the
Times Online
speak for themselves:
Whether attired in fishnet stockings or lederhosen, Count Gottfried von Bismarck was always the centre of attention at Oxford. At his lavish parties, severed pigs' heads were served and guests toasted each other in blood. . . .

"After his pigs' heads party I met him in various incarnations on the party circuit," recalled one university friend. "Whether dressed up in lederhosen or fishnet stockings, he was charm personified and scintillating company."

Intent on living up to Christ Church's reputation for binge drinking, he took his place alongside the sozzled toffs at the notorious Bullingdon and Loders clubs. He entered energetically into the spirit of the Piers Gaveston Society, noted for its predilection for rubber wear and whips, which he embellished with his androgynous apparel and lipstick.
Ahh, Count von Bismark. May we NVR FRGT thee. Here's a little tune I whipped up on the spot.
Goodbye Germany's Rose
Though I never knew you at all
You had the grace to hold yourself
While those around you crawled
And now let's put the absinthe down and have a moment of silence.